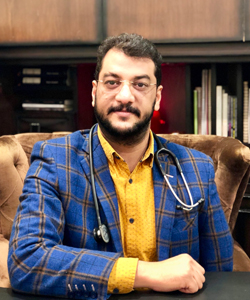 About Dr. Manish Jagpal
M.D. (Hom.)
Dr. MANISH JAGPAL (BHMS), M.D(HOM) belongs to the fifth generation of medical profession. He has been apprentice to various stalwarts of homoeopathy. He has gained reputation for his astonishing achievements and results in very short time.

He is admired for splendid results in various chronic cases with his special interest in pediatrics. He has an extraordinary ability to penetrate into the state of his patients which arise from the spiritual bend applied in life. He is well equipped with latest skills and modern tools to look into the patient's disease, evident from the quality of life of his patients. With time he has created a unique bond of trust and confidence with his patients.

He believes in transforming the lives of the patient by adapting various techniques along with medication such as - counselling, meditation, assignments, life coaching, lifestyle corrections and also diet and nutrition in collaboration with Dr. AMAR JAGPAL.

He has worked as lecturer in a postgraduate homoeopathic institute for 9 years. His relentless mastery over basic homoeopathic subjects like organon, materia medica and repertory gives him immense confidence and clear vision in treating blocked cases easily. He has been regularly delivering lectures and seminars in various institutions from time to time on latest topics that are need of the time. Teaching is his passion and his students are proud of him as they are delighted by the captivating and inspiring space provided by him. He is now working as the Head of The Other Song Ludhiana providing top class educational facilities in the north region. His mission is to transform Homoeopathy on planet by simplifying it and integrating various approaches in homoeopathy.