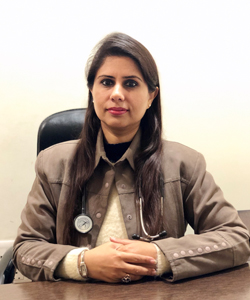 About Dr. Amar Jagpal
M.D. (Hom.)
Dr. AMAR JAGPAL(BHMS), M.D(HOM) serving under the same institution since 12 years is expert in managing gynaecological cases along with her special interest in making her patients adopt a healthy lifestyle.

Dr. Amar Jagpal has learned working with Dr. Ramakant Jagpal and Dr. Manish Jagpal since beginning of her practice. She has worked as a lecturer in a postgraduate homoeopathic institute for 9 years.

She is well known for her never ending appetite to acquire latest skills. Her passionate interest in dietetics, nutrition and physical workout along with skilled homoeopathic application has given her extraordinary results in chronic health issues of females like PCOD, PCOS, MENSTRUAL IRREGULARITIES, HIRSUTISM, HORMONAL DISORDERS, PRENATAL, ANTENATAL, POSTNATAL PROBLEMS Etc.

She takes special interest in the well being and upliftment of females physically, mentally and spiritually. Being female her deep intention is to empower women health in the society by making a difference in their lives by educating them about health and nutrition.

Her zealous interest into this has provided her patients with a wholistic treatment and improved her results manifolds.