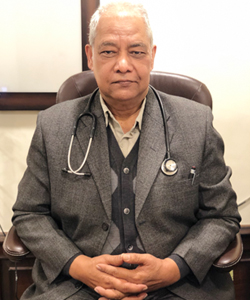 About Dr. Ramakant Jagpal
M.D. (Hom.), D. Sc.
Dr. RAMAKANT JAGPAL M.D(HOM.), D. Sc is well known for elevating the standards of homoeopathy globally. Over 40 years he has conducted seminars and workshops for the practitioners and the students in India and various other countries.He is the first physician in northern India who started to use modern computerized technology in daily clinical practice in year 1988 and has been instrumental in spreading the idea till date.

Dr. Ramakant Jagpal is highly admired for his mastery in handling huge number of refused and incurable cases with a remarkable improvement in most of the patients. Also, he has high success ratio in treating psychiatric cases with long term experience.

He has a distinction of having treated eminent patients from various faculties such as scientists, doctors, researchers, ministers, high profile government officers, etc. from many countries.

Dr. Ramakant Jagpal belonging to fourth generation of medical profession is the only homoeopath of Northern India awarded with the degree of D.Sc.

He had the privilege to teach in Homoeopathic Institution for more than 16 years and to work as a Head of the department in one of the prestigious allopathic institution of the country i.e. Dayanand Medical College and Hospital Ludhiana for more than 8 year.

With such a vast and lengthy experience of practice and teaching, homoeopathy has given him penetrating wisdom that helps him in treating his patients with efficacy.